About Us
NCS at a Glance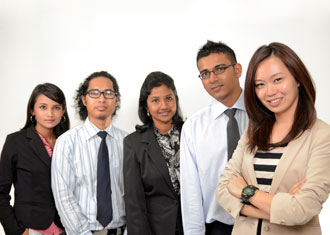 Since year 2000, NCS has grown to become the master in Outsourcing Solutions in Malaysia. NCS is the pioneer Malaysia outsourcing company. We bring people, process, and technology together. NCS offers Business Process Outsourcing (BPO); Contingent Workforce Outsourcing (CWO); Recruitment Process Outsourcing (RPO); Executive Searches (Permanent Placement) ; Offsite Development Center (ODC) for software testing/validation; Software Design/Development; and sales, marketing, systems, and IT tech support.
While Information Technology and Engineering are our core strengths, we have a solid track record for supplying other industries. Our Off-shore Development Center (ODC), opened in September 2013, offers a range of services including software validation.
NCS have well defined quality management systems. Our business processes are standardized and compliant with statutory and regulatory requirements. Our corporate governance ensures checks and controls with transparency.
WHY CHOOSE US
Experts in handling complex projects.
Highly structured or flexible support models to solve any business challenge.
Quality assurance (Microsoft certified).
Responsive and warm personnel.
Ethical and honest.
QUALITY POLICY
Superior and consistent quality in services provided.
Fastest response to customers' requests.
Leading edge technology and value added solutions.
---
Our Story
NCS was established in 2000 as a Penang outsourcing company serving West Malaysia. What began as a five person office grew to become Malaysia's leading business solutions provider with over 400 employees and counting. NCS has built its reputation on honesty, ethical business practices, dedication to customers, and seeing projects to completion without leaving any loose ends.
We have worked closely with international companies to bring new or improved products to market while keeping clients' intellectual property and proprietary information confidential. Our teams routinely assist clients to research, develop, and validate market-ready products to meet global quality standards on time and on budget.
---
Our Vision & Mission
Vision
Bridging People towards Success
We fulfil needs and goals by providing opportunities, bridging individuals and corporations towards growth and success.
Mission
Responsible towards client's growth
Our mission for our clients is to create and supply a talent pool of professionals, whose skills meet the latest market demands, to fulfil needs of client companies at the forefront of their industries. The constant improvement of quality is something we take pride of, where we cater for the growth of our business needs for our clients.
All business is to be conducted in a professional manner, with high integrity, full responsibility of information security and non-disclosure commitment.
Meet and exceed client expectations with our service quality, continously improve business processes for increased operational efficiency and value added solutions. 
Deliver highly skilled and qualified candidates.
Develop new talents
Our mission for the community is to improve the quality of life by attracting multinational corporations to the country, and thus create for opportunities for career growth and fulfilment, and upward social mobility.
Giving the opportunities for new talents to gain professional exposures and growth of their career.
Ensuring we develop highly skilled and qualified talents through continuous improvement.
Encourage and groom our employees to reach their potentials.
---
Our Values
Integrity
Our code of conduct is to be honest and ethical in our business practices. Our long-standing industry reputation with clients, vendors, and candidates has been built on trust and confidence. When you engage NCS, we deliver what we promise. We also ensure confidentiality of intellectual property and sensitive information.
Diligence
We are customer-centric and aim to deliver and maintain quality of services to clients and candidates to the best of our capabilities. NCS works carefully with clients, vendors, and candidates to understand their needs, expectations, and restrictions. When we commit to a project, we devote our utmost to ensuring project success and client satisfaction.
Excellence
To bring clients the best the industry has to offer, we continuously improve our processes, stay updated with current research and industry conditions, source the finest candidates available, and encourage and groom our employees to reach their potentials.
Equal Opportunities
We respect and value our employees based on their professional contributions without discrimination on age; gender; race; creed; or marital, familial or parental status; national origin; or sexual orientation. We treat candidates with fairness, ensure fair work conditions, and provide training and on-going coaching. All NCS policies and employment practices comply with local government regulations and labor laws.
---
Clients & Industries
Clients that rely on NCS, as their Malaysia outsourcing company and for technical resources hiring, or strings. include U.S. Fortune 100 and 500 corporations, companies traded on the NASDAQ Stock Market, original equipment manufacturers (OEMs), original device manufacturers (ODMs), integrated hardware vendors (HIVs), multinational corporations (MNCs), and global manufacturers that are recognized leaders in their industries.
Industries served by NCS include but are not limited to:
Engineering
Information Technology
Business Management
Contact Centers/Helpdesk (including special languages)
Sales and Marketing
Telecommunications
Human Resources
Manufacturing and Industrial
Planning
Research & Development
Consumer Electronics
NCS has adopted the Responsible Business Alliance (RBA) code of conduct concerning the environment, ethics, health and safety, labor, and management systems.
NCS has capabilities to serve all industries. Should yours belong outside the above list, we cordially invite you to call for a free, confidential consultation: In Penang 04-6449684 and in Kuala Lumpur 03-2169 6388.
---
Partner & Business Group
Our Partner

Microsoft Certified Partner
Microsoft Partner Network Silver Mobility
Microsoft Partner Network Silver Web Development
Our Business Group
Our business groups include Agensi Perkejaan NCS Solutions Sdn Bhd (specializes in permanent placement and headhunting) and NCS Information Systems Sdn Bhd.
Corporate Social Responsibility
Go Green
In an era of globalization, NCS is committed to being a socially and environmentally responsible corporate citizen. We comply with all applicable environmental, safety, and health laws and regulations. As part of its go green policy, NCS seeks to minimize the impact of its operations and events on the environment. Daily efforts are made to conserve resources, recycle, reduce pollution, and minimize degradation of our environment. Our clients responsibly manage the waste, emission, and by-products from their manufacturing processes.
Go Charity
NCS also cares for its community and people. Through its CSR, NCS makes donations and other contributions toward charitable causes annually. Examples of our community involvement include cleaning public recreation areas weekly, a hospital charity drive for heart disease patients, and donations to an orphanage caring for abandoned, orphaned, abused, neglected or disable children. By leading by example, we strive to create awareness and encourage employees, clients, and the public at large to give back to the community.
Go Talent
Members of our staff also meet with students at universities and technical learning institutions to create awareness of the job market and the career prospects at MNCs, which graduates can look forward to for skills development, resume building, free training, and career growth.